11/12/2016
Sam Cooke
Commonly known as the King of Soul for his distinctive vocals, Sam Cooke first reached the top of the charts in 1957 with "You Send Me." A string of pop and R&B hits soon followed, including "Only Sixteen" and "Everybody Loves To Cha Cha Cha" "Wonderful World," "Chain Gang" and "Twistin' the Night Away", (Cooke had 30 US top 40 hits between 1957 and 1964).
Born on January 22, 1931, in Clarksdale, Mississippi, by age nine Sam, with his two sisters, formed a gospel trio the Singing Children. Sam Cooke later sang with the gospel group the Soul Stirrers.
Cooke was also among the first modern black performers and composers to attend to the business side of his musical career. He founded both a record label and a publishing company as an extension of his careers as a singer and composer. He also took an active part in the Civil Rights Movement.
No one knows for certain what exactly happened in the early hours of December 11, 1964. Cooke had been out the night before, having dinner with producer Al Schmitt and Schmitt's wife, Joan. Well-wishers kept stopping by the table, interrupting their conversation. Sam eventually got pulled away to the bar. At a booth near the bar, there was a baby-faced 22-year-old Asian girl, sitting with three guys. Sam caught her eye. He'd seen her around. One of the guys, a guitar player Sam knew, introduced them. The girl's name was Elisa Boyer. Before long, the pair were together in a booth.
In the early hours, the couple left the bar in Sam's brand new red Ferrari and headed to a nightclub called PJ's, once in the club, Sam got into a heated argument with some guy who was hitting on Boyer. She asked Sam to take her home, and they left at 2 a.m.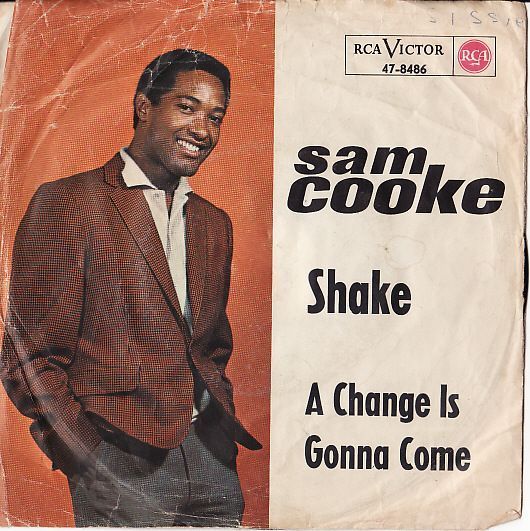 They eventually ended up at the Hacienda Motel were the couple had some type of altercation in their room, and Cooke then ended up in the motel's office. He reportedly clashed with the motel's manager, and the manager shot Cooke. Cooke died from his injury, which the manager claimed was inflicted in self-defense. It was later ruled justifiable homicide.
Thousands turned out to mourn the legendary singer, over 200,000 fans lined up for more than four city blocks to view his body at the A.R. Leak Funeral Home in Chicago.
Two singles and an album were released in the month after his death. One of the singles, "Shake", reached the top ten of both the pop and R&B charts. The track "A Change is Gonna Come", is considered a classic of Civil Rights Era Protest Music.
Cooke left behind a tremendous musical legacy, and as a pop icon, Cooke has endured through his songs. Otis Redding and Al Green are among the artists who have covered his work.
Cooke's pure, clear vocals were widely imitated, and his suave, sophisticated image set the style of soul crooners for the next decade. Cooke was a true superstar in his lifetime. After his death, his legend became even larger. His influence can be heard in the precise phrasing of Smokey Robinson, in the conscientious songwriting of Marvin Gaye in the raw emotion of Lou Rawls and in Aretha Franklin's controlled passion. He was inducted into the Rock and Rock Hall of Fame in 1986.
10/12/2016
11th Dec 1982, The Jam played their last ever gig as a band when they appeared in Brighton, England. Singer and guitarist Paul Weller went on to form The Style Council with keyboardist Mick Talbot. The permanent line-up grew to include drummer Steve White and Weller's then-wife, vocalist Dee C. Lee. Favourite Jam song?
10th Dec 1965, 18-year-old David Bowie recorded 'Can't Help Thinking About Me' at Pye Studios, London, England, which was later released as a single under the name David Bowie with The Lower Third. It became the first David Bowie record to be released in the US as well as the first time the name "Bowie" appeared under the songwriters credit.
10th Dec 1999, Rick Danko died in his sleep at his home near Woodstock, New York. The Canadian guitarist and singer joined The Hawks in 1963 who went on to work as Bob Dylan's backing band, (with Robbie Robertson, Richard Manuel and Garth Hudson). Renamed The Band who released their 1968 debut Music from Big Pink (featuring the single 'The Weight'). The Band released the 1978 concert film-documentary triple-LP soundtrack 'The Last Waltz.'
09/12/2016
10th Dec 1967, American soul singer, songwriter Otis Redding was killed in a plane crash, aged 26. Redding and his band had made an appearance in Cleveland, Ohio on the local 'Upbeat' television show the previous day. The plane carrying Otis Redding and his band crashed at 3.28.pm into icy waters of Lake Monoma near Madison. Redding was killed in the crash along with members from the The Bar-Kays, Jimmy King, Ron Caldwell, Phalin Jones and Carl Cunningham. Trumpet player Ben Cauley was the only person to survive the crash.
9th Dec 2010, Eric Clapton announced he was to sell off part of his extensive guitar collection to raise money for his Crossroads rehab Centre in Antigua. Highlights of the sale would include a guitar Clapton played at the Cream reunion shows in 2005, estimated to sell for more than £13,000. The sale to be held by Bonhams in New York would also feature a vast collection of amps and speakers, including a pair of Marshall speaker cabinets
9th Dec 1989, Billy Joel started a two week run at No.1 on the US singles chart with 'We Didn't Start The Fire'. Its lyrics are made up from rapid-fire brief allusions to over a hundred headline events between 1949 (Joel was born on May 9 of that year) and 1989, when the song was released on his album Storm Front.
08/12/2016
Gregory Stuart "Greg" Lake (10 November 1947 – 7 December 2016)
Imagine No John Lennon

On 8 December 1980, John Lennon was shot five times by 25-year-old Mark David Chapman outside The Dakota, the apartment building in New York City where John and Yoko Ono lived. Chapman had been stalking Lennon for days outside the building and asked for an autograph as Lennon walked through the courtyard.

Returning from the Record Plant studios where they had been working, John and Yoko had been dropped by their white limousine on the pavement outside the building rather than driving through the gates and into the building's secure courtyard.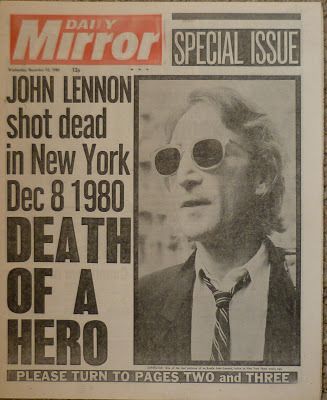 Yoko walked on ahead, nodding blankly at a stranger in the shadows — there were always fans and hangers-on lurking outside the Dakota for a glimpse of their hero.

Her husband, who was walking a few paces behind, heard a voice call out. "Mr Lennon?" John slowed and then turned to look. Instantly, he registered that he'd seen this man a few times lately — and, earlier that day, had even autographed an LP cover for him.

But now the stranger had a different purpose. He was down on one knee in a combat stance, a .38 revolver clasped in his hands. Five shots rang out and four dum-dum bullets, specially adapted to cause maximum physical damage, slammed into Lennon's back, side, and shoulder.

Lennon was pronounced dead from a massive loss of blood at 11:30pm.

On the day of the shooting, Chapman bought a copy of The Catcher in the Rye from a New York book store, in which he wrote "This is my statement" and signed it "Holden Caulfield," the name of the novel's protagonist. He then spent most of the day near the entrance to The Dakota, where Lennon and Yoko Ono lived, talking to other fans and the doorman. At one point, a distracted Chapman missed seeing Lennon step out of a cab and enter the Dakota building on the morning of December 8.

Around 5:00 pm, Lennon and Ono left The Dakota for a recording session. As they walked toward their limousine at the curb, Chapman shook hands with Lennon and held out a copy of Lennon's new album, Double Fantasy, for him to sign. Photographer Paul Goresh was present when Lennon signed Chapman's album and took a photo of the event.

Chapman has since said he shot the former Beatle because he wanted to "steal" his fame — stating that now he was a bigger nobody than he was before. He also revealed he planned the killing for three months and considered murdering other celebrities who he thought were "phonies." He said he remembered Lennon's wife Yoko Ono walking up to the police car where he was sitting after his arrest, and looking at him but saying nothing.

He remained at the scene until the police arrested him, and pled guilty to the crime. He was sentenced to a prison term of 20 years to life, and is currently imprisoned at the Attica Correctional Facility in Attica, New York, having been denied parole six times.

John Lennon displayed an outspokenness that helped redefine the rules of acceptable behavior for rock stars. He criticized America's involvement in Vietnam, and, as the '60s progressed, he became an increasingly important symbol of the burgeoning counterculture. But more than that, John Lennon was a brilliant artist. He wrote some of the most loved and moving songs of the last century. FromNorwegian Wood to Imagine to I Am The Walrus to Revolution, and many many more.
07/12/2016
7th Dec 1979, The Police had their second UK No.1 single with 'Walking on the Moon', taken from their second album 'Reggatta De Blanc'. The video for the song was filmed at Kennedy Space Center interspersed with NASA footage