29/09/2016
The Walrus Was Paul

On 29 Sept 1967, working at Abbey Road in London, the Beatles mixed the new John Lennon song "I Am The Walrus" which included the sound of a radio being tuned through numerous stations, coming to rest on a BBC production of William Shakespeare's King Lear. Lennon composed the song by combining three songs he'd been working on. When he learned that a teacher at his old primary school was having his students analyse Beatles lyrics, he added a verse of nonsense words.

Now this innocent nine-year-old didn't know that. I didn't have a clue what the song was about, but it was magic to my ears. I'd never heard anything like it before.

I've mentioned this before, but I still can't believe that at such an early age, we were all listening to music and taking it all in. Maybe it's because there was nothing on the telly in those days. I mean, in the UK we only had two channels - and they didn't start until 5pm. In black and white.

Maybe that's the explanation. Kids today have no imagination, it's all fed to them via the TV and computer. What's the statistic? Under 16s now spend 35 hours per week of screen time with their TV or computer. And during that time, they will see sex, death, explosions, car chases, shoot-outs... (Hey, what channel is this? It sounds good!)


Anyway, I don't want to sound like an old git, but when I listened to John Lennon singing about "sitting on a cornflake, waiting for the van to come", it conjured up all sorts of theatre of the mind. In fact, I think I did try sitting on a cornflake, several times, but they always crumbled into tiny pieces. My mum couldn't understand how all these solitary cornflakes were ending up in the carpet. And the van never came.

"Yellow matter custard, dripping from a dead dog's eye, Crabalocker fishwife, pornographic priestess, Boy, you been a naughty girl, you let your knickers down."

Bloody hell, I'm only nine. What is he going on about?

Who killed the dog and why? And where did the custard come from? I'm hungry. What is a 'crabalocker fishwife?'

I don't know and I don't care, and I certainly don't want to meet one. And I don't want to meet any girl who does that with her knickers.

"Sitting in an English garden waiting for the sun. If the sun don't come, you get a tan, From standing in the English rain."

Aah, now I understand that bit. It's England and always raining.

Oh no, he's at it again in the next verse.

"Semolina pilchard, climbing up the Eiffel Tower. Elementary penguin singing Hari Krishna 
Man, you should have seen them kicking Edgar Allan Poe."

I think the Eiffel Tower is in France, but how did that pilchard get up there and why was it covered in semolina? We have that for school dinners, I like it. Hari Krishna? I've heard my dad mention them, he swore. And I hope Edgar is all right after he had a kicking.

Was he on drugs, that John Lennon?

Well, of course he was, but that doesn't detract from the genius of Lennon, who gave instructions to producer George Martin as to how he wished the orchestration to be scored, including singing most of the parts as a guide. The Mike Sammes Singers took part in the recording, variously singing "ho-ho-ho, hee-hee-hee, ha-ha-ha", "oompah, oompah, stick it up your jumper!", "everybody's got one" and making a series of shrill whooping noises.

Lennon returned to the subject in the lyrics of two of his subsequent songs. In the 1968 Beatles song "Glass Onion" he sings "now here's another clue for you all "the walrus was Paul", just to confuse people a bit more, and in his 1970 solo song "God", admits "I was the walrus, but now I'm John."

I've always loved "Walrus"; it would be in my top five list of Beatles songs every time. When I was mucking about as a late night radio presenter a few years back, I would often play the track, listening at full volume in the studio. I would also mess about with the stereo balance as it was playing the outro, fading it from left to right, imagining that anyone listening in a car would wonder what the bloody hell was going on!

John Lennon, you were a genius.
28/09/2016
28th Sept 1974, Bad Company went to No.1 on the US album chart with their self-titled debut album. Paul Rodgers and Simon Kirke had come out of Free while Mick Ralphs had played guitar with Mott The Hoople and Boz Burrell was bass player for King Crimson before the group formed in 1973. They produced six albums together before disbanding in 1983.
28th Sept 1976, Stevie Wonder released his eighteenth studio album Songs in the Key of Life, an ambitious double LP with a four-song bonus EP. It debuted at No.1 on the Billboard Chart on October 8, 1976, becoming only the third album in history to achieve that feat and the first by an American artist.
27/09/2016
27th Sept 1986, Metallica bass player Cliff Burton was crushed to death after the bands tour bus crashed between Stockholm and Copenhagen. During a European tour members from the band drew cards for the most comfortable bunk on the tour bus, Burton had won the game with an Ace of Spades and was asleep when the tour bus ran over a patch of black ice and skidded off of the road. He was thrown through the window of the bus, which fell on top of him.
Happy birthday to Meat Loaf, born on 27th Sept 1947, (Marvin Lee Aday), 1993 UK & US No.1 single 'I'd Do Anything For Love But I Won't Do That', record breaking 1978 album 'Bat Out Of Hell', spent 457 weeks on the UK album chart
26th Sept 2003, English singer, songwriter Robert Palmer died of a heart attack aged 54 in Paris France. He was a member of Vinegar Joe and Power Station (with Duran Duran members Andy Taylor and John Taylor with drummer and former Chic member Tony Thompson). As a solo artist had the 1986 US No.1 & UK No.5 single 'Addicted To Love' and the 1988 hit 'Simply Irresistible'.
25/09/2016
Abbey Road

On 26th Sept 1969, The Beatles released 'Abbey Road' in the UK. The final studio recordings from the group featured two George Harrison songs 'Something' (Harrison's first A-side single), and 'Here Comes The Sun'. In their interviews for The Beatles Anthology, the surviving band members stated that, although none of them ever made the distinction of calling it the "last album", they all felt at the time this would very likely be the final Beatles product and therefore agreed to set aside their differences and "go out on a high note".

Abbey Road is the 11th studio album released by the English rock band The Beatles. It is their last recorded album, although Let It Be was the last album released before the band's dissolution in 1970.

The photo session for the cover of The Beatles 'Abbey Road' album took place a month earlier on 8th August, on the crossing outside Abbey Road studios. Photographer Iain McMillan, balanced on a step-ladder in the middle of the road took six shots of John, Ringo, Paul, and George walking across the zebra crossing while a policeman held up the traffic. The band then returned to the studio and recorded overdubs on 'The End', 'I Want You (She's So Heavy)' and 'Oh! Darling'.

The man standing on the pavement in the background on The Beatles 'Abbey Road' album sleeve is Paul Cole, an American tourist who was unaware that he was being photographed until he saw the album cover months later.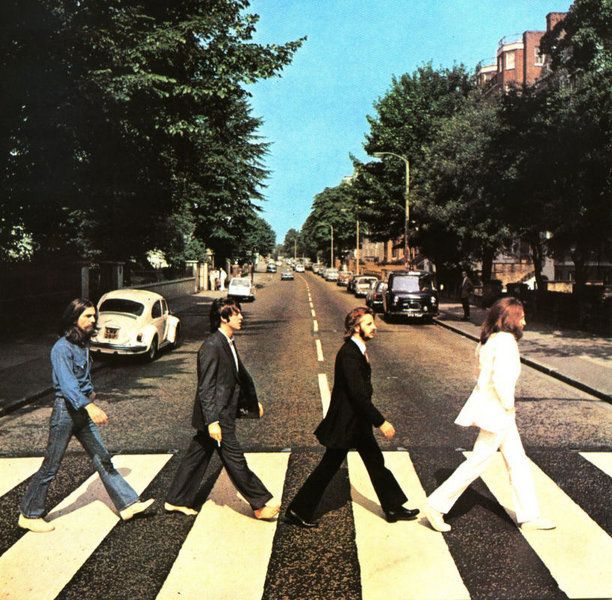 When released in 1969 the cover of The Beatles Abbey Road album supposedly contained clues adding to the 'Paul Is Dead' phenomenon: Paul is barefoot and the car number plate 'LMW 281F' supposedly referred to the fact that McCartney would be 28 years old if he was still alive. 'LMW' was said to stand for 'Linda McCartney Weeps.' And the four Beatles, represent; the priest (John, dressed in white), the Undertaker (Ringo in a black suit), the Corpse (Paul, in a suit but barefoot), and the Gravedigger (George, in jeans and a denim work shirt).

Abbey Road was voted 14th on Rolling Stone magazine's list of the "500 Greatest Albums of All Time". In 2009, readers of the magazine also named Abbey Road the greatest Beatles album.

Something became George Harrison's first A-side single. The track was initially given to Joe Cocker, but was subsequently recorded for Abbey Road. Frank Sinatra once commented that, "Something" was "the greatest love song ever written".

In their interviews for The Beatles Anthology, the surviving band members stated that, although none of them ever made the distinction of calling it the "last album", they all felt at the time this would very likely be the final Beatles product and therefore agreed to set aside their differences and "go out on a high note".

"Octopus's Garden", was Ringo's second (and last) solo composition released on a Beatles album. It was inspired by a trip to Sardinia aboard Peter Sellers' yacht that occurred when Starr left the band for two weeks with his family during the sessions for The Beatles. While there, he composed the song.

The climax of the album is the 16-minute medley consisting of several short songs, both finished and unfinished, blended into a suite by McCartney and Martin.

The album opener "Come Together" was inspired by a song Lennon originally wrote for Timothy Leary's campaign for governor of California titled "Let's Get It Together".

"Here Comes the Sun" is one of George Harrison's best-known songs; it was written in Eric Clapton's garden in Surrey, England.

"Her Majesty", tacked on the end of the album, was included in a rough mix of the side two medley, appearing between "Mean Mr. Mustard" and "Polythene Pam". McCartney disliked the way the medley sounded when it included "Her Majesty", so he had it cut out of the tape. However, second engineer John Kurlander had been instructed never to throw out anything, so after McCartney left, he picked it up off the floor, spliced 14 seconds of red leader tape onto the reel, and then spliced in "Her Majesty" onto the leader tape, resulting in the track coming at the end of side two.

The image of the Beatles on the crossing has become one of the most famous and imitated in recording history. The crossing is a popular destination for Beatles fans and there is a webcam featuring it. In December 2010, the crossing was given grade II listed status for its "cultural and historical importance"; the Abbey Road studios themselves had been given similar status earlier in the year.
25th Sept 1975, Jackie Wilson had a heart attack while performing live on stage at the Latin Casino, New Jersey. Wilson collapsed into a coma suffering severe brain damage. Ironically, he was in the middle of singing one of his biggest hits, 'Lonely Teardrops' and was two words into the line, "....my heart is crying" when he collapsed to the stage, striking his head heavily. Wilson died on 21st January 1984. Van Morrison wrote the song 'Jackie Wilson Said', covered by Dexy's Midnight Runners.
25th Sept 1969, John Lennon recorded the track 'Cold Turkey', with Eric Clapton, Ringo Starr, Klaus Voorman and Yoko. Lennon presented the song to Paul McCartney as a potential single by The Beatles, but was refused and released it as a Plastic Ono Band single with sole writing credits to him
25th Sept 1980, John Bonham, drummer with Led Zeppelin, died aged 32 after a heavy drinking session. 'Bonzo' was found dead at guitarists Jimmy Page's house of what was described as asphyxiation, after inhaling his own vomit after excessive vodka consumption, (40 shots in 4 hours). During live sets his drum solo, 'Moby Dick,' would often last for half an hour and regularly featured his use of his bare hands. In 2007, Ludwig issued a limited edition drum kit in Bonham's memory.