06/09/2016
Led Zeppelin
Led Zeppelin

On 7th Sept 1968, Jimmy Page, Robert Plant, John Paul Jones and John Bonham made their live debut as Led Zeppelin but billed as The Yardbirds at Teen Club in Gladsaxe (a suburb in the outskirts of Copenhagen), Denmark. Around 1,200 youngsters attended the show at Egegard School. Teen Club President Lars Abel introducing 'The New Yardbirds' on stage introduced Robert Plant as Robert Plat. A local review stated; "Their performance and their music were absolutely flawless, and the music continued to ring nicely in the ears for some time after the curtains were drawn after their show. We can therefore conclude that the new Yardbirds are at least as good as the old ones were"

Jimmy Page, Robert Plant, John Paul Jones and John Bonham played together for the first time on 12th Aug 1968,when they rehearsed at a studio in Lisle Street in London's West End. The first song they played was "Train Kept A-Rollin." Released in 1951, written by Tiny Bradshaw and co-produced by Ahmet Ertegun – the man who would sign Zeppelin to his Atlantic label and who eventfully would be the reason that the greatest rock band ever would reform over 40 years later for a tribute to the great man.

Funny how things work out.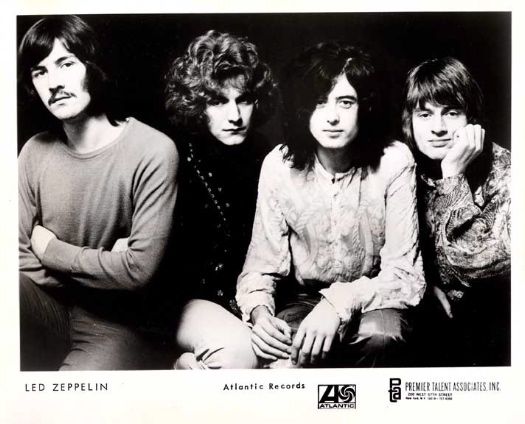 According to John Paul Jones, the room "exploded" on that day in 1968 as they kicked into the song - they knew they had something. They subsequently played the song as their show opener on tours during 1968 and 1969.

It's hard, even with hindsight, to describe the impact that Zeppelin had on music. Jimmy Page had grown up in the safe haven of post-war suburban Surrey, England, the same breeding ground that had spawned two other guitar colossi, Eric Clapton and Jeff Beck, and his devotion to the guitar had led to him leaving school at the age of fifteen to take it up as a career.

Having become a highly-regarded session musician by 1965, he recommended his friend Jeff Beck as Eric Clapton's replacement in the groundbreaking Yardbirds, only to join the band alongside Beck in 1966.

Two tough years of gigging followed, mostly in the USA, and after Beck quit to form the first of a line of Jeff Beck Groups, Page carried on the torch. His fellow band members wanted to go in a different musical direction, but ceded Page the group name, so in the Summer of 1968 he set about creating the band to crystallise his musical vision, who initially fulfilled Yardbirds live dates as The New Yardbirds.

The story has been told many times of how the group came together: Page's first choice vocalist Terry Reid recommended the young singer Robert Plant (who had already been in three bands); Plant pushed for his friend John Bonham, who was drumming for artists of the calibre of Tim Rose and had several offers to juggle.

Fellow session player and veteran pop arranger/bassist John Paul Jones called up Jimmy Page and the lineup was set. Even so, things might not have jelled, but they did.

Bonham's solidity and Jones' fluidity, coupled with a mutual love of soul music, proved the ideal bedrock for Page's structured folk and blues influences, combined with a talent for rock song arrangement that ensured the audience's interest. On top of that came Robert Plant's unique vocal style, rooted in blues but with incredible power in the upper range, plus a range of lyrical interests that extended beyond the straight pop and blues references of the time.

If you consider that the UK Number One singles of Autumn 1968 included Mary Hopkin and Hugo Montenegro, it gives some idea of the alternative that Zeppelin offered, one that was gratefully received by the nation's concert goers. They wouldn't be hearing much of Zeppelin on UK radio, but the band were to travel the breadth of the country, offering their phenomenally powerful show to anyone prepared to put them on, conquering Britain and the US in short order with drive, excitement, and most of all, musicianship.

Led Zeppelin's debut album took only 36 hours of studio time to complete at a cost of just £1,782, with most of the tracks being recorded 'live' in the studio with very few overdubs.

The album exploded on the rock scene in January 1969 and arguably rock music has never been the same since. Zeppelin have been much maligned for their allegedly one-dimensional approach to rock music – mostly from people who've never properly listened to them. The blame for the many sub-Zeppelin imitators who have taken only the hard riffology of Page's vision and added none of the band's additional funk, soul, blues and folk influences can't be laid at Zeppelin's feet. But that is also why their music and their albums are still listened to in 2011, when that of their younger copyists has fallen by the wayside.

Zeppelin's performances still remain supreme, long may the train keep a-rollin'. Get on board…