01/09/2016
Little Richard
Little Richard

In Sept 1955, Little Richard entered a New Orleans recording studio to begin two days of recording. Things were not going well and during a break, Richard and his producer; Bumps Blackwell went to the Dew Drop Inn for lunch. Richard started playing the piano in the bar, singing a loud and lewd version of "Tutti Frutti." With only fifteen minutes left in the session, Richard recorded the song and coined the phrase, "A-wop-bop-a-loo-bop-a-lop-bam-boom."

Can you imagine how cool it would be to coin a phrase like that! And today over fifty years later, it still sounds as good.

That opening cry of "A-wop-bop-a-loo-bop-a-lop-bop-bop!" was supposedly intended to be an onomatopoeic parody of a drum intro.

Little Richard Penniman had recorded for Peacock Records since 1951, his records had been relatively undistinguished and had sold poorly. In February 1955, he sent a demo tape to Specialty Records, which was heard by producer Robert 'Bumps' Blackwell. Blackwell heard promise in the tapes and arranged a recording session for Little Richard at in New Orleans in September 1955, with Fats Domino's backing band.

However, as the session wore on, Little Richard's anarchic performance style was not being fully captured on tape. It was then that the Band took a lunch break and in frustration Richard started pounding a piano and singing a ribald song, which he had been performing, live for some time.

Richard is considered key in the transition from rhythm and blues to rock and roll in the 1950s. He was also the first artist to put the funk in the rock and roll beat and contributed significantly to the development of soul music. He was also a brilliant showman.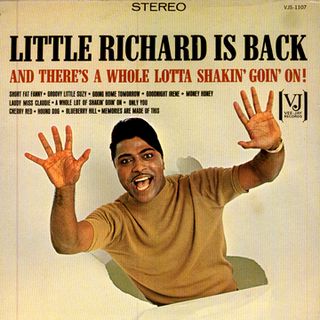 When released the record entered the Billboard Rhythm and Blues chart at the end of November 1955, and rose to #2 early in 1956. It also reached #17 on the Billboard pop chart. Surprisingly in the UK, it only scraped into the top 30 in 1957, as the B-side of "Long Tall Sally".

On October 12, 1957, while at the height of stardom, Penniman abruptly quit rock and roll music and became a born-again Christian. He had charted seventeen original hits in less than three years. In January 1958, he enrolled in and attended Bible college to become a preacher and evangelist and began recording and performing only gospel music for a number of years. He then moved back and forth from rock and roll to the ministry, until he was able to reconcile the two roles in later life.

Did you know that Tutti Frutti is Cockney slang for Beauty?

It's funny how the phrase 'Tutti Frutti' has stuck with us for all this time, and is now so well established. We have so many brands using the name to sell everything from Pizzas to ladies underwear to the award winning UK TV series, Bars, a German TV Game show and the film Miss Tutti Frutti. And the world famous Croatian rock band called …. Tutti Frutti. (who?).

In 2010, The Library of Congress National Recording Registry added Penniman's original 1955 hit "Tutti Frutti" to its registry, claiming that the hit announced a new era in music: "A-wop-bop-a-loo-bop-a-lop-bam-boom!"