16/08/2016
Elvis Presley
Things you didn't know about Elvis:




On 16th August 1977, Elvis Presley was found dead lying on the floor in his bathroom by his girlfriend Ginger Alden, he had been seated on the toilet reading 'The Scientific Search For Jesus'. He died of heart failure at the age of 42. His first record for RCA, 'Heartbreak Hotel', was also his first US No.1. He starred in 31 films. Elvis holds the record for the most entries on the US Hot 100 chart with 154.

In 1960, after completing his national service and flying back to America, he stepped on British soil for the first and only time in his life when the plane carrying him stopped for refuelling at Prestwick Airport, Scotland.

Elvis made his first ever public appearance in a talent contest at the Mississippi, Alabama Dairy Show, singing 'Old Shep', Elvis was 10 years old at the time and came second.

He was fired from his job at Loew's State Theatre during 1952 after punching a fellow usher who told the manager that Elvis was getting free candy from the girl at the concession stand.

Elvis Presley was a big Monty Python fan. His favourite film was The Holy Grail. It was in his video recorder when he died.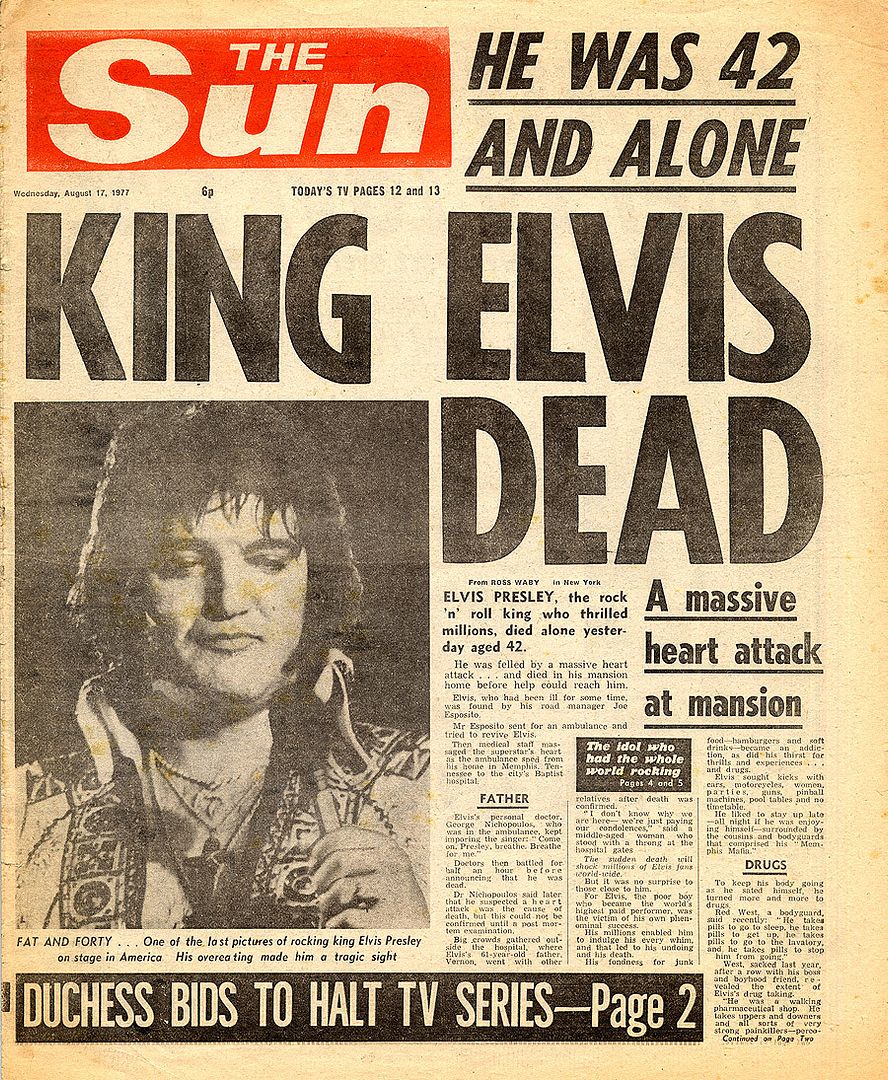 In 1957, Elvis was rushed to a Los Angles hospital after swallowing a porcelain cap from one of his front teeth which then lodged itself in one of his lungs.

Sheet metal worker Louis Balint punched Elvis at a Hotel in Toledo claiming that his wife's love for the singer had caused his marriage to break up. Balint was fined $19.60 but ended up being jailed after he was unable to pay the fine.

In 1957, Elvis purchased the stately mansion 'Graceland' in Whitehaven, Memphis. He paid $102,500 for the property which had previously been used by the Graceland Christian Church.

In 1958, Elvis Presley's 'Hound Dog', exceeded three million copies in the USA, becoming only the third single to do so ( Bing Crosby's White Christmas & Rudolph The Red Nose Reindeer by Gene Autry being the other two).

In 1988, Hound Dog was named the most played record of all time on American Juke Boxes.

Elvis became the first rock 'n' roll artist to be honoured by the US Postal Service with a commemorative stamp.

Elvis has scored 21 UK No.1 singles, had 130 UK hit singles and spent over 1170 weeks on the UK singles chart. Making him the No.1 act of all time.

In 1997, a report showed that Elvis was the worlds best selling posthumous entertainer. With world-wide sales over 1 billion, over 480 active fanclubs and an estimated 250,000 UK fans still buying his records.

In Switzerland it is illegal to cut a front lawn while dressed as Elvis Presley.

The lightest Elvis ever weighed as a six foot tall adult was 170 lbs in 1960 following his discharge from the U.S. Army. The heaviest was at the time of his death, which was 260 lbs.

Elvis became a karate blackbelt in 1960 and went on to use karate moves in his stage shows.

Preseucoila imallshookupis is a species of gall wasp derived from the Elvis Presley song 'All Shook Up'.

In 1977 there were 170 Elvis impersonators. By 2002 there were 85,000. At that rate of growth, by 2019 a third of the world's population will be Elvis impersonators