09/05/2016
Billy Joel
Billy Joel - Timeline
9-May-1949 William Martin Joel was born in the Bronx and was raised in a Levitt house in a section of Levittown, New York that was located in the town of Oyster Bay.
9-Feb-1964 The Beatles made their US live debut on CBS-TV's The Ed Sullivan Show. Watched by an estimated 73 million people, including Billy Joel who that night decided to pursue a career in music. In an later interview he said of the group's impact, "That one performance changed my life … Up to that moment I'd never considered playing rock as a career. I can relate to these guys, I am these guys. This is what I'm going to do – play in a rock band."
21-Feb-1964 New York band The Echoes recruited a new 16 year-old unknown piano player, named Billy Joel.
1-Nov-1971 Cold Spring Harbor the debut solo album by Billy Joel was released. The album was named after a hamlet of the same name in the town of Huntington, New York, a seaside community near Joel's hometown.
9-Nov-1973 Billy Joel released his second studio album Piano Man, his first with Columbia Records, which peaked at No.27 on the US chart. The title track became Joel's first major hit and his signature song.
11-Oct-1974 Streetlife Serenade Billy Joel's third studio album was released. The album contains two songs that were featured in many of Joel's live shows during the 1970s: the instrumental "Root Beer Rag" and the short song "Souvenir".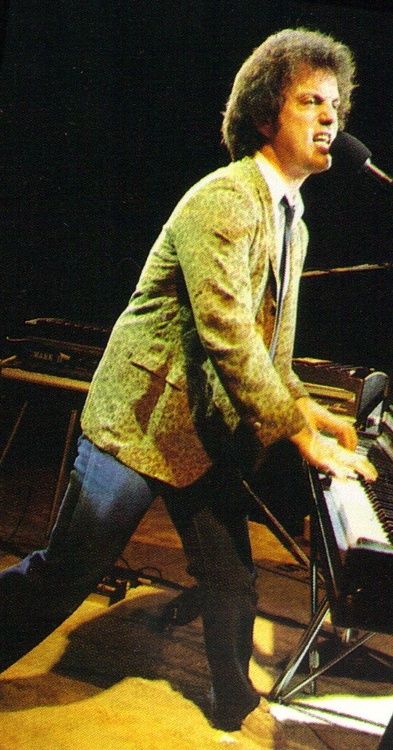 19-May-1976 Turnstiles the fourth studio album by Billy Joel was released which peaked at No.122 on the US chart, (but has now sold over a million copies).
29-Sept-1977 His fifth studio album The Stranger was released and became Joel's true critical and commercial breakthrough, spending six weeks at No.2 on the US album charts. Singles released from the album include "Just the Way You Are" (which won the Grammy for both Record of the Year and Song of the Year), the acoustic ballad "She's Always A Woman," "Only the Good Die Young," and "Movin' Out (Anthony's Song)."
18-Nov-1978 Billy Joel went to No.1 on the US album chart with his sixth studio album, 52nd Street. His first US No.1 album was also the first commercial album to be released on compact disc (by Sony Music Entertainment) and won Joel the 1979 Grammy for Album of the Year.
15-Feb-1979 At the 21st Grammy Awards, Billy Joel's 'Just the Way You Are' won Record and Song of the Year.
27-Feb-1980 Winners at the Grammy Awards included album of the year, for Billy Joel's '52nd St'.
14-Jun-1980 Billy Joel started a six-week run at No.1 on the US album chart with Glass Houses, his second US No.1 album. The album features Joel's first song to peak at No.1 on Billboard's Pop Singles chart, "It's Still Rock and Roll to Me."
15-Apr-1982 Billy Joel, was reported to be in ''quite good'' condition after major surgery at Columbia Presbyterian Medical Center in New York. The singer broke his left wrist when his 1978 Harley Davidson hit a car in Long Island, New York. The hospital switchboard was jammed with calls from his fans, and Joel issued a plea through a spokesman that the calls ceased because they were ''tying up lines for those people who are really sick.''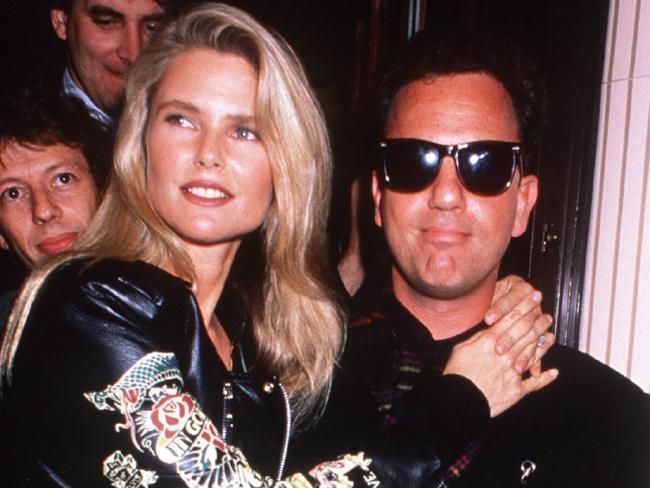 24-Sep-1983 Billy Joel went to No.1 on the US singles chart with "Tell Her About It", his second US No.1.
5-Nov-1983 Billy Joel was at No.1 on the UK singles chart with "Uptown Girl", which stayed at the top of the chars for five weeks. The song was initially written about his relationship with his then-girlfriend Elle Macpherson, but it ended up also becoming about his soon-to-be wife Christie Brinkley (both women being two of the most famous supermodels of the 1980's).
23-Mar-1985 Billy Joel married model Christie Brinkley on a boat moored alongside the Statue Of Liberty. They divorced in 1993.
30-Aug-1989 Billy Joel fired his manager and former brother in law Frank Weber, after an audit revealed discrepancies. Joel took Weber to court and sued for $90 million.
9-Dec-1989 Billy Joel started a two week run at No.1 on the US singles chart with "We Didn't Start The Fire". Its lyrics are made up from rapid-fire brief allusions to over a hundred headline events between 1949 (Joel was born on May 9 of that year) and 1989, when the song was released on his album Storm Front.
16-Dec-1989 Billy Joel went to No.1 on the US album chart with his 11th studio release Storm Front. The album featured one of Joel's three No.1 hits, "We Didn't Start the Fire", a fast-paced song, mentioning some of the major historical events that took place in his time, and "Leningrad", Joel's take on the end of the Cold War.
28-Aug-1993 Billy Joel started a three-week run at No.1 on the US album chart with River Of Dreams. Joel claimed most of the music came to him in his sleep, hence the title. The singers second wife, one time model Christie Brinkley, painted the album cover which was later voted worst album cover of the year.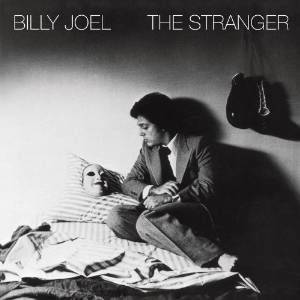 16-Oct-2002 Billy Joel checked out of a Connecticut hospital known for treating substance abuse.
26-Jan-2003 Billy Joel was airlifted to hospital after his car smashed into a tree. The singer lost control of his Mercedes S500 and skidded for 100 yards before crashing. The accident happened in The Hamptons, New York.
2-Oct-2004 Billy Joel married 23-year-old Kate Lee at his Centre Island, New York mansion. It was the third marriage for Joel.
16-Mar-2005 Billy Joel checked into a rehabilitation centre for alcohol abuse. A statement from the 55-year-old singer's spokesperson put his latest problems down to "a recent bout of severe gastrointestinal distress."
24-May-2009 Billy Joel was being sued by his former drummer for hundreds of thousands of dollars in unpaid royalties. Liberty Devitto, claimed that Joel hadn't paid him proper royalties for 10 years of his work. Devitto was Joel's drummer from 1975 until 2005, when he said he was abruptly thrown out of the band. He said: "People get fired, they get severance or insurance for a certain period of time. I didn't even get a phone call. It was cold."
17-Jun-2009 60-year-old Billy Joel and his third wife, 27-year-old Katie Lee Joel announced that were splitting up after nearly five years of marriage. Joel's nine-year union with model Christie Brinkley ended in 1994. His nine-year marriage to Elizabeth Weber, for whom he wrote "Just The Way You Are", ended in 1982. It's believed that Billy had a prenuptial agreement to protect the millions his many hits have earned.
1-Aug-2009 Billy Joel and Elton John closed their 'Face To Face' Tour in Philadelphia. Beginning in 1994, the tours, made them the longest running and most successful concert tandem in pop music history.
12-Dec-2011 Joel became the first non-classical musician honored with a portrait in Steinway Hall.
4-July-2015 Joel married his fourth wife, Alexis Roderick (aged 33 at the time), an equestrian and former Morgan Stanley executive, at his estate on Long Island